Mornings are often the hardest times for all of us sleep deprived individuals, but with a solid beauty regimen, I am able to slightly alleviate the burden of waking up. In the mornings, I don't want to have to think very much about what I am going to do, wear, or put on my face--which is why I always lay out my outfits for school the night before. Instead, over time, I have developed this habitual process that makes what comes immediately after waking up more of an innate reaction than a thought out response. Also, if this process seems tedious to you, know that all these steps honestly have a purpose. By being kind to your skin, your skin will be kind to you.
1. Cleanse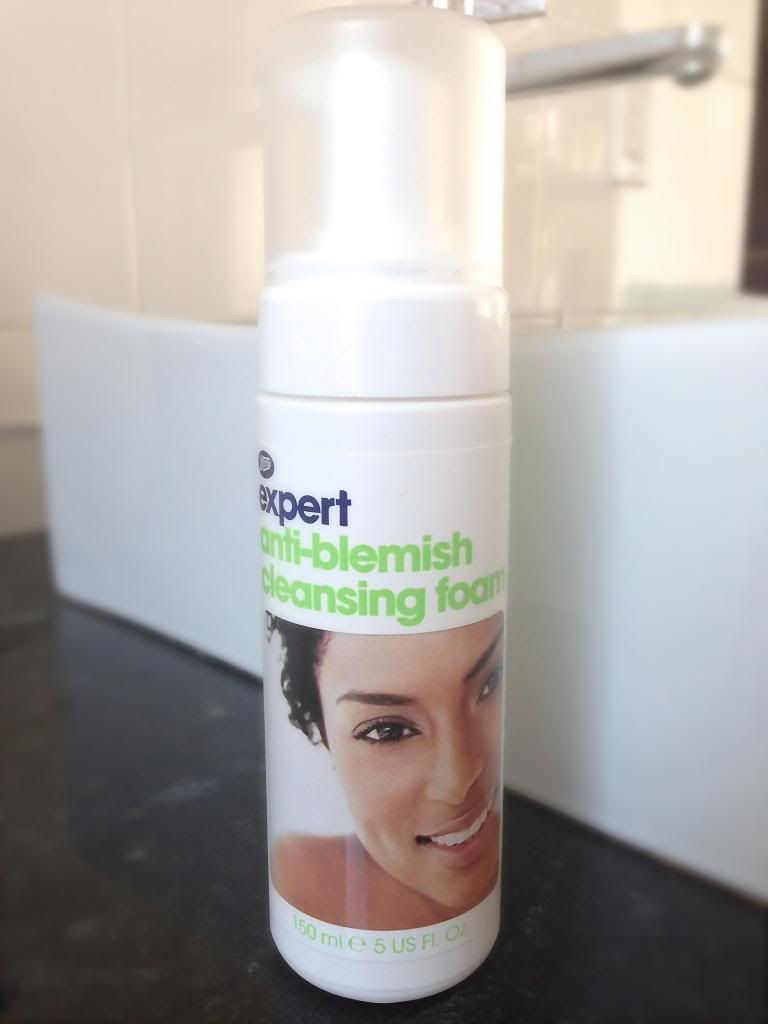 My day truly begins after I have washed my face with cold water, using my trusted Clarisonic Mia 2 ($142.50) and Boots Expert Anti-Blemish Cleansing Foam ($5.49). I first got the Clarisonic as a birthday present two years ago, and I must say that it has changed my life. That may sound dramatic to some of you, but it may be the Clarisonic by itself, or the combination of it with the rest of my routine that has made my skin more clear and evenly toned than before. Even though it is expensive, it truly is an investment, especially given the two year warranty and great customer service: I don't know what I would do without it! Back to my routine, I find that using a foaming cleanser with the Clarisonic is ideal for my sensitive skin, and I go through bottles and bottles of this cleanser from twice daily use--I actually have four in my bathroom right now--so the price doesn't hurt.
After I wash my face, I apply treatment to any spots or breakouts I may have. I use this prescription from my doctor: Clindamycin Phosphate Topical Gel 1%. I've used this since middle school because Salicylic Acid and Benzoyl Peroxide really weren't working well for my breakouts, and this was the only acne product that helped clear up my skin. If you have had a similar experience as me, be sure to talk to your doctor to see what they recommend. I use the treatment under my moisturizer so that it has the most contact with my skin, delivering the most direct effect.
After the spot treatment has dried, I use my Philosophy Take A Deep Breath Gel Moisturizer ($35.00) all over my face and neck. If I were to only give one beauty tip, it would undoubtedly be: Moisturize! Moisturize! Moisturize! It doesn't matter what skin type you have, you can find the perfect moisturizer for your skin (which really is the difficult part). This moisturizer is good for my skin because it is an oil-free gel, so it is lightweight, doesn't clog my pores, and soaks in quickly. Don't be stingy, slather it on, gently of course. Moisturizing now will pay off in the future.
Easy to forget, but important to remember, sunscreen cannot be forgotten...ever. It doesn't matter whether it is winter, summer, spring, or fall, you always have to protect your skin from the sun's rays. My sunscreen of choice actually came to me as a sample from Ulta, and I'm glad that it did. It's the CōTZ Face Natural Skin Tone SPF 40 ($19.99). This sunscreen has a matte finish, so it isn't greasy and it won't make your skin look oily, which is an important feature for me. It is tinted to a generic skin color, so it does give you the tiniest hint of coverage, but it isn't too noticeable and doesn't affect the product's appeal.
What is your morning skincare routine? Do you have any skincare products that you swear by?